Liszt's Weimar Situation 1848
informal bib for this:
Williams' Franz Liszt Selected Letters p261 - 265
Walker's biography, v2 chapter "Music at the Court of Weimar"
La Mara's Franz Liszt: Selected Letters v. 2 p89
Allan Keiler's "Liszt and the Weimar Hoftheater" in Studia Musicologica Academiae Scientiarum Hungaricae 1986, p431-450
Anna Harwell Celenza's "The Poet, the Pianist, and the Patron: Hans Christian Andersen and Franz Liszt in Carl Alexander's Weimar" 19th-Century Music, Vol. 26, No. 2 (Fall 2002), pp. 130-154
1848 Timeline
mid-january: Liszt leaves Woronice and arrives in Weimar in early february
16 february: he conducts Flowtow's opera Martha
28 febrary: He conducts
18 April: Liszt and Princess Carolyne are reunited at Schloss Gratz
Late April/early May: They journey, via Prague, to Vienna; and from here visit Eisenstadt and Raiding.
9 June: In Dresden, en route to Weimar, Liszt spends the evening with Wagner and Schumann
18 September: In Frankfurt, Liszt's friend Prince Felix Lichnowsky is killed by a mob
12 November: At a court concert Liszt for the first time conducts music by Wagner: the overture to Tannhauser. He also plays the andante from Henselt's Piano Concerto and a piano solo, and conducts act IV of Les Huguenots
Works 1848
Hungaria-Kantate for 4 male voices and organ
Les Preludes symphonic poem
Kling leise, mein Lied song
Weimars Toten song
Le Vieux Vagabond song
Ueber allen Gipfeln is Ruh song
Romance piano work
Trois etudes de concert piano
Consolations piano
Glanes de Woronice piano
Tannhauser overture piano arrangement
Weber's Einsam bin ich, nicht alleine piano
Schlummerlied piano
Schumann's Widmung
Important People in Liszt's Life '48
Princess Carolyne Von Sayn-Wittgenstein In the early months of 1848, Carolyne was traveling from her home in Woronice, Russia to live with Liszt in Weimar with her daughter, Marie. She was unofficially separated from her husband at the time, and hoping to get a divorce, though the legal system and her family's insufferable greed made it impossible. She and Liszt were very much in love at the time, and most of the information about Liszt's life at this time comes from his letters to her.
Grand Duke Carl Friedrich of Sachsen-Weimar 1783-1853. His father, Carl August, is credited with turning Weimar into a cultural, literary center in Europe. He was responsible for bringing Goethe and Schiller to Weimar, and even ordered himself buried with them. His age was known as the great age of German drama "Weimar Classicism."
Grand Duchess Marie Pavlovna of Russia 1786 - 7859. Sister to Tsar Nicholas II. Married to Carl Friedrich, mother to Carl Alexander. Was known widely as a great Patron of the arts, and was known as a scholar, composer and musician. Liszt's salary as Kapellmeister came from her own personal funds, and Marie Pavlovna bought and furnished Liszt's house, The Altenberg, as an extravagant gift.
Grand Duke Carl Alexander of Sachsen-Weimar: 1818-1901. Son of Grand Duke Charles Frederick and Grand Duchess Marie Pavlovna. Married to Princess Sophie of the Netherlands. Reigned Weimar from 1853 - 1901. He knew Goethe and Schiller, and was raised by his mother to appreciate the arts. Inherited a terrible financial situation from his father, however. He married the princess Sophie for her money. He and Liszt had a close relationship, and were connected with a common desire to raise Weimar to its former glory.
Carl Alexander's opinion of Liszt can be seen particularly in his letters to writer Hans Christian Andersen:
1848
"Indeed, he [Liszt] brings together a strength of intelligence, a rush of ideas, a breath of culture, an energy of the will, a uniqueness of individuality … as has never been seen before."
and in another letter
" he [Liszt] is my spiritual champagne"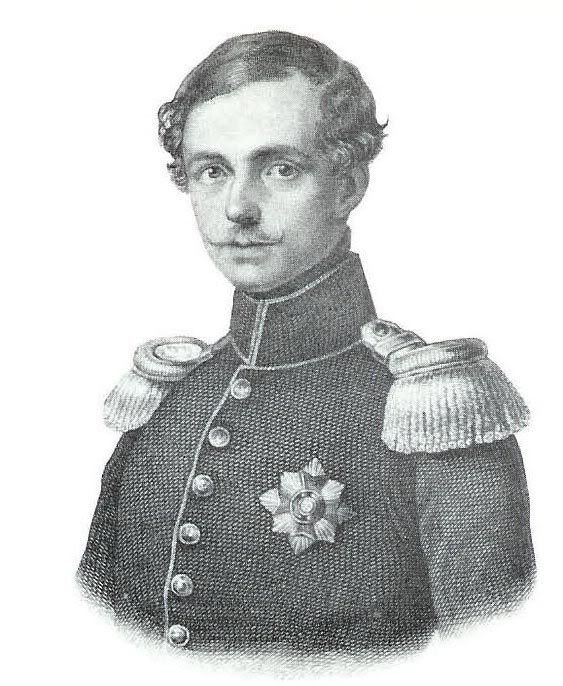 Princess Sophie of the Netherlands 1824-1897. Eww. Married her cousin Carl Alexander when she was 18. She was the daughter of Anna Pavlovna, Marie Pavlovna's sister.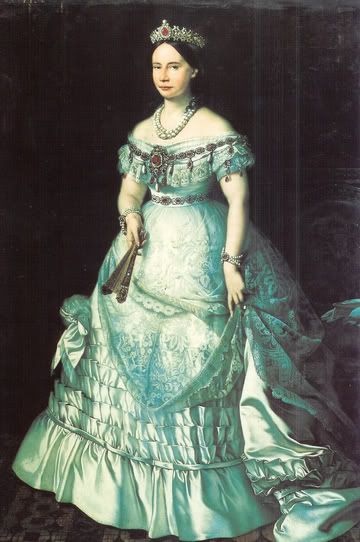 Hyppolyte Chelard Successor to Hummel in Weimar as direcor of the theater in the 1840s.
Franz von Schober writer and librettist in Weimar who was Liszt's close friend at this time.
The 1842 Kapellmeister Contract
In 1841, Liszt plays a concert in Weimar for the first time
in 1842, L accepted the position of Kapellmeister from Carl Friedrich.
Hyppolyte Chelard felt threatened by L's presence, and, since there was only one concert theater, together they worked out an official contract that attempted to separate their domains, theater and music.
The private contract:
"Liszt will spend three months here every year, the months of September and October, or October and November, and lastly the month of Bebruary.
I. He desire to have, for the concerts he arranges, the direction of the Court Orchestra, without, however, superseding M. Chelard, who will direct the orchestra on all other occasions.
2. Herr Liszt wishes to remain Herr Liszt for life, without acceptin andy other title.
3. As regards the financial remuneration, Herr Liszt will be satisfied with whatever sum may be thought suitable for his services during these three months.
Written after my conversation with Herr Liszt October 30, 1842.
Liszt's appointment to Kapellmeister was strongly opposed, not only by Chelard, but by Hummel's family who lived in Weimar. They felt that Liszt' presence would obscure Hummel's memory, and that his piano style did not do Hummel's work's justice.
He also met opposition from Hummel's student, Ferdinand Hiller.
Liszt did not necessarily stick to this contract, certainly not visiting Weimar 3 months out of the year.
The Sach-Weimars were surprisngly calm about this. Carl Alexander sent him several letters from 1842 - 48 hinting that he should return. This one speaks to their informality.
"I hope that you will not be annoyed with me if I disturb you for a moment in the middle of all your activites. I am picking up the pen simply in order to ask you how everything goes, and especially how ti goes with you yourself. For a long time I have heard nothing about you, except for the few words that M. Genast spoke to me when he returned from Vienna. He told me that you are working a lot, so I regret not seeing you vis-a-vis the task that you have imposed on yourself … Do not bear me a grudge if I try to slip Weimar's name into your plans … Madame the grand duchess and I hope that December will see our wishes realized … If the summer has already seen my hope of seeing you again die, then make the winter keep its promise …"
Your very affectionate
Carl Alexander
Liszt eventually gives in and moves to Weimar permanently (more or less) in 1848 into what most scholars seem to view as a Haydn/Esterhazy-esque situation.
The State of Wiemar 1848
Carl Alexander's Grandfather, Carl August had made Weimar a cultural center in his time with the help of Goethe and Schiller. Liszt pledged to revive the cultural life of the city, to recreate a "New Athens."
The facts were, however, that civil war and poor financial planning had devasted the Sach-Weimar fortune.
Another very important fact was that because of the city's history with Goethe and Schiller, literature and plays took great precedence over music. The public just wasn't as interested in concerts.
In light of this, Liszt's Les Preludes symphonic poems can be seen as bridging the gap between literature and music
The salaries for the court musicians were pittances, and though he tried, he wasn't able to improve their wages. Needless to say, the 35 members of the orchestra Liszt inherited had very low morale.
Liszt tried, but was often unable to attract virtuosos to Weimar because of political unrest and pitiful offerings of pay.
In a letter from Liszt to violoncellist vituoso Bernhard Cossmann, September 1848
"Unfortunately that is the case here too, although our dear Weymar continuing free, not only from the real cholera, but also from the slighter, but somewhat disagreeable, periodical political cholerina, may peacefully dream by its elm … should circumstances and conditions, however, turn out as I wish, then the Weymar band would consider it an honour and a pleasure to possess you, my dear sir, as soon as possible as one of its members."
The Humiliating Patronage System
Liszt was paid little, and fluctuating amounts of money a year from Marie Pavlovna's pocket, ranging between 330 and 1600 thalers annually
L described this as his "cigar money," and it literally was, as Walker points out. He and Carolyne seriously spent that much on tobacco.
Liszt gave composition lessons to M Pavlovna, who apparently wasn't terrible, and singing lessons to Princess Sophie
On feb 28, 1848, L writes Carolyne, describing his duties in Weimar.
"When not busy with my duties in the theatre, I have the Court concerts to prepare, 4 or 5 singing lessons a week to give to Her Royal Highness the Hereditary Grand Duchess, a very intelligent young princess, the timbre of whose voice is quite delightful; plus a male-voice choir to train, and, which is unbearable, endless correspondence to attend to. From this enumeration you can see that here in Weimar my days of leisure are very few indeed."
Liszt was treated as an employee, expected to be on hand for birthdays, funerals and festivals, and worst of all, to wear a uniform.
he was not allowed to mingle with the royalty and upper class at functions.
Walker points out that this must have been terribly humiliating for him because of his known struggle to raise the status of the artist.
Liszt's Conducting in Weimar
Liszt did not have much experience as a conductor, but he conducted 2 operas in early 1848. Flowtow's Martha, and Gustav Schmidt's opera Prinz Eugen (with libretto by his friend Schober)
His efforts were not well recieved. Here is a quote by Reissiger, a court conductor at Dresden, reviewing his performance of Martha in Neue Zeitschrift:
"On the whole, the opera could have received, under anyone else's direction save that of Hofkapellmeister Liszt, a far better performance than was, in fact, the case. The recitatives particularly were very uneven and even the singers hesitated noticeably. The blame for this lies neither with the well-known capability of our orchestra … nor with the singers, but is to be sought simply in the uncertainty with which Dr. Liszt conducted. Since, in many places where different tempi arose, he would let his beat come to rest completely, and then suddenly start up again wildly, never conducting all of the subdivisions of the bar, it is only natural that the orchestra and singers should suffer, as they have only become familiar with this new method through its inventor, Dr. Liszt."
Allan Keiler, however, in his article "Liszt and the Weimar Hoftheater" argues that Liszt was in fact trying to create a new style of conducting influenced by Beethoven. Keiler quotes a later letter from 1853 that Liszt wrote to Richard Pohl, describing his opinions on interpretation
"These works, reckoning fromt hose which are commonly described nowadays as belonging to Beethoven's last style 0 these works, to my thinking, exact from executants and orchestras a progress which is being accomplished at this moment - but which is far from being realized in all places - in accentuation, in rhythm, in manner of phrasing and declaiming certain passages - in a word progress in the style of the execution itself."
and in the preface to his own symphonic poems:
"Works of this kind need to be performed with more moderation, flexibility, and intelligence in the effects of color, rhythm and expression that is still not customary enough in many orchestras. It is not sufficient for a composition to be regularly beat and mechanically executed … The vital nerve of a beautiful orchestral performance lies prinicpally in the understanding of the work that is to be reproduced, which the conductor must above all possess and communicate, in his manner of dividing up and accentuating periods, in underlining contrasts at the same time as in managing the transitions …"
so clearly, Liszt thought very much about conducting style, even if wasn't what people were used to then.
page revision: 26, last edited:
15 Mar 2011 19:20